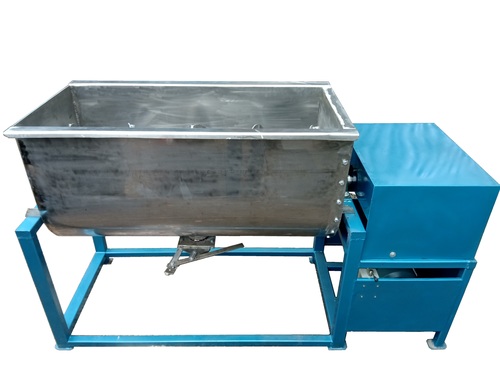 Product Description
Ourorganization has gained recognition as the affluent manufacturer and supplierof a qualitative range of Ribbon Blenders. This blender consists ofU shaped open drum with a rotating Shaft having Spiral ribbons/Paddle shapedBlades that rotates on a horizontal axis, mounted on a sturdy structure. Ourclients can avail this Blender in different specifications in accordance withtheir specific demands.
Application:
Itis also used for paste/slurry making in Confectionary, Tooth Paste, Distemper& Acrylic paints, cosmetics, Different lotions, Liquid soap industries etc.
Capacity & Pricing:
10. Kg. Hand operated. SS. Rs 14,000
20. Kg. Hand operated. SS. Rs 21,000
Motorised.SS. Rs 27,000
50.Kg. Motorised.SS. Rs 65,000
100.Kg. Motorised. SS. Rs 80,000
250.Kg. Motorised. SS. Rs 96,000
500.Kg. Motorised. SS. Rs 1,42,000
1000.Kg. Motorised. SS. Rs 2,01,000
2000.Kg. Motorised. SS. Rs 2,72,000
AbovePrices are Inclusive of GST.
SSmeans Tank, Shaft and Ribbons are made with Stainless Steel. Above ratesmay change depending on raw material rate variation. Please consult us for yourspecific requirement.
Note:-All of our machines are Customized as per Requirement. Materialfor cylinder can be M.S./S.S.202/S.S.304/any other. The Dimensions & Shaft (Ribbon)R.P.M. can be varied as per process requirement.
Contact Us
Plot No. 547, Khatiwala Tank, Scheme No. 44, Behind SBI, Near tower Square, Indore, Madhya Pradesh, 452014, India
Phone :+918068093433